I'm going to assume that if you're reading this blog, you've come to it via my other blog, The Crumpet, and that you know that for 4, nearly 5 years, I've blogged there about nail polish, and that after  much soul searching and 2 years of nearly doing it, I've finally pulled the plug and called time on that blog and all that it entailed.
I'm writing this post from The Other Side, from this blog AFTER that blog, and the agonising, the deciding, and the still not being sure whether it was over.  If you're wondering whether it's time to call time on your own blog, this post may offer some hints for you.
The decision making process to kill The Crumpet took about 2 years.  During that time I had a couple of breaks / breakdowns, where the blogging schedule got too much and took its toll.  However, the break WAS better than a cure, and each time I came back more energised and more focussed.   I was prepared for it happen once, even twice (it always happened after January because I used to overblog in December), but when it happened the 3rd time, and after a shorter interval than before, I think I knew the jig was up.
To be honest, pulling the plug has not been a clinical head-led decision.  If it were, it would have been done a hell of a lot sooner.  The delay, the agonising, the eeking death, all those were matters of the heart, and the fact that for me, blogging was so much more than words on a page.  It was a community, a family I'd never had before, and somewhere I had left my mark.
Left to my own devices, I may not have pulled the plug, but the necessity of moving house in 3 months, and packing up, selling up and needing to make money, all combined to make it an easy decision.   Need more time?  Stop blogging.  Need more money?   Stop buying polish.  And now that I sit here today, right now, I feel a certain amount of luxury.  My weekend is not dominated by painting, editing, cropping, watermarking, swatching, writing (of that sort), with everything else second.   This weekend, I HAVE CHOICES.
And that's the biggest thing that you never realise about blogging.  What starts off as a hobby becomes the ultimate time vampire, sucking you away from your life in massive chunks. The better you get, the more you strive, so the more effort you put into your photos, your blog layout, your content, your quantity and connections, and before you realise it, something that was fun has become professional, demanding as much time as your full-time job.
That was my first wake up call, a couple of years ago, when I guessed I was putting 40 hours a week into my blog.  Wow, no wonder I'm tiiiiiiired, that's like having 2 jobs !!  So I cut back, but I do, did and always will suffer from an excess of ideas, so doing less, or planning to do less is hard, if nigh on impossible.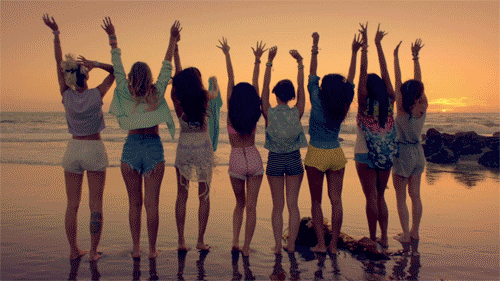 But back to those friendships.   I HAVE had an impact on the nail world.   It sounds very big-headed to say it, but I am proud I created Adventures In Stamping, Crumpet's Nail Tarts and especially The Digit-al Dozen.  More than anything, this last group of ladies is my true family, and my one unsevered umbilical with the nail world.   If it weren't for them, I'd be completely gone, but they keep me lingering, and here's why.
Last week, our Digital Dozen theme was Nail Heroes, and as a thank you, and a goodbye, they all chose to honour me on one of the days.  It was so sweet and such a surprise, and incredibly emotional.   I knew we were all friends, and I know *I* idolise these women, but you don't necessarily expect it back in return, so some of the things they said had me in tears.   Proper tears.
Some of the things they wrote had me nodding and smiling, and other things took my breath away – I'm THAT, really?  I had no idea – and knowing I have a positive impact on so many wonderful women was humbling and inspiring.  As things stand at the moment, I do have more Digit-al Dozen manis in the vault, and  we have talked about a universe where I do 1 mani a month – a DD mani of course – just to keep those emotional juices high, but it leaves me in a weird place.  Blogging for me as The Crumpet, is over, but can I just walk away without posting those vaulted manis?   All that time that went into their creation – can I really just press delete?
Equally, can I just delete these amazing women from my world?  Do I mind if I don't do or post another mani again?  No.  But do I mind not being part of these ladies lives?  Hell yeh.  And that's why I have splinters in my butt right now.  I have been steadily destashing over the last year.  Down from 2000 polishes to maybe 600 and now aiming to move forward with no more than 100 or 200. But here's the thing.  I have 100 polishes I love, and 100 polishes I want to keep for nai art purposes.  But what if there is no more nail art?   What if I never want to gradient or dot again?  Hell, the last few weeks, I've barely even painted my nails, so how am I ever gonna stamp again?
And let's not forget, I am an all or nothing girl.  The bigger part of me just wants to be rid of EVERYTHING nail related.   But then I'll never have pretty nails again.   Oh the agonies lol.   And then this morning, THIS happened on my Facebook page –
Oh the irony.  For so long – 3 years maybe- 10,000 likes was my Facebook goal, my tipping point of world domination and success, and that it should come as a seal on my goodbye well … that's funy.  And yes, for a brief moment (well 5) I did wonder whether it was a sign I should carry on lol.